About us
Quality Craft Supplies at Wholesale Prices for DIY Moms and Headband Makers.
Bowtique Emilee started in May 2013 when I began to buy bulk supplies to make headbands for my newborn daughter Emilee and selling what I didn't use on eBay. Quickly the business went from an unexpected income stream to being my full time job. First it took over the den, then a bedroom, a small commercial office space and now a 2000 square-foot warehouse in Batavia, IL. What started on eBay has expanded to Amazon, Etsy and our website at bowtiqueemilee.com.
This is how we make Bowtique Emilee different: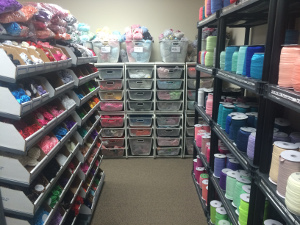 Quality
We use the best suppliers and reject the junk. We inspect every single inch of elastic, every flower, every rhinestone to make sure our customers get the best. No stains, no spots, no frayed edges, period. Our goal is 100% customer satisfaction which is why all of our products come with a 30-day money-back guarantee.
Speed
We understand our customers have event and project deadlines and need their supplies in a hurry. We ship orders within 1 to 3 business days. Need something real soon? Just select Priority Handling at checkout ($5 or $10 for orders over $100) and your order will jump to the top of our processing queue.
Service
We're always available to answer your questions and help you with your purchases. E-mail us or call us anytime toll free at 866-512-8964.
Value
We work very hard to offer our products at the most competitive prices on the web. We offer bulk pricing on all of our products - the more you buy the more you save.
Selection
We have over 1500 products in our catalog and we add more every week.
Thank you!
Thank you for your interest in Bowtique Emilee! Use code ABOUTUS for 10% off your next purchase.
Jackie Diamond
Owner, Bowtique Emilee LLC